11 Apr 2012
Evance 3.2 announced for May 2012
We've completely redesigned Evance's Order Desk it's now smoother and more powerful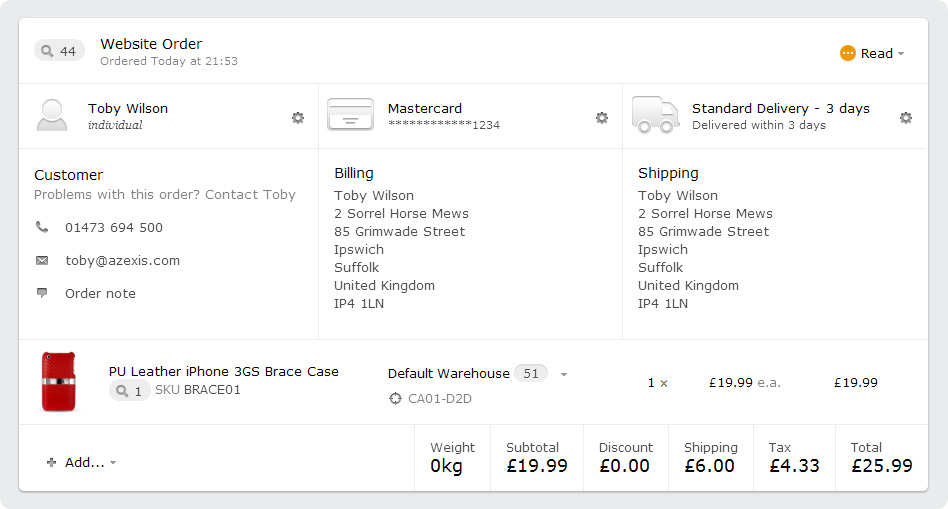 The new order desk has been redesigned to be a little easier on the eye, but whilst there are less visible buttons it is much more functional.




New status menu
There was little to no control over status in previous iterations of Evance, but now with the all new status menu you're always in control over your orders. Evance will allow you to select from permissible status even allowing you to reclaim cancelled orders or edit partially dispatched orders.




Resent order confirmations
You told us that sometimes your order confirmation emails are ending up in customer junk mail. Whilst there's little we can do about their spam filters you can now easily resend order confirmations to clients who request it. You can even opt to send it to an alternative address.



Change payment methods
Non-credit card based payments, were overlooked in previous version. But you told us you wanted to take other payment types, so that's a thing of the past and we're beginning to build a lot more functionality into Evance around alternative payment types including cash, cheques and BACS.



Change delivery method
You told us that sometimes you look to give people better deals, or need to change the cost of shipping on orders coming in to your order desk. So another big tick in the box is the availability of the new delivery method menu. It allows you to select from preset shipping based on delivery address or add a custom shipping cost to the order.




More stock control
You told us that stock control was increasingly important to your businesses and we know that locating stock isn't always easy. So we've added stock location directly in the order lines within your order desk. Plus, you can now change to alternative warehouses on multi-warehouse systems directly from the order view.



Changing order quantities
You told us that sometimes customers will call you wishing to change their order quantities. Previously orders were closed as soon as they hit your inbox, but now we've opened up many editable areas of an order until its marked for dispatch. This includes quantity, which you can simply click to edit.



Adding products to an order
Customers have been calling our clients saying they forgot to add something to their cart, or need to change a product in their order. Perhaps they want to swap one product for another. In previous versions of Evance this would have meant a bit of fiddling to cancel and create orders. But in Evance 3.2 you simply add a new product or remove one.



Adding discount coupons
You told us that customers often forget to add a discount coupon to their shopping cart. In previous version of Evance this would have meant cancelling and order and opening a new one, but as of Evance 3.2 you can simply add a discount coupon code directly to an open order - so long as its not marked for dispatch.



Plus, a whole lot more
From the shipping class layouts, to credit control Evance 3.2 boasts a whole load more updates and bug fixes. We've even refocused our attention on VAT calculations for both trade and retail and have solved the long term issues with VAT. So that's Evance 3.2, we know that you'll love the new Order Desk upgrades as much as previous upgrades.