12 Sep 2012
Evance Fandango (3.3) Released
We've accomplished a huge amount this year and Fandango is another sterling release for Evance - focusing on discounts, SEO & the CRM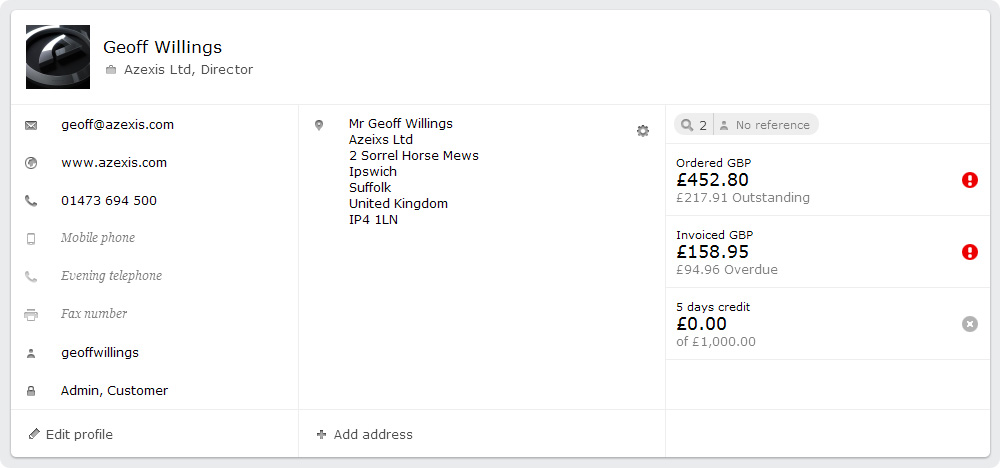 A new layout for Evance Contacts
The new contact manager layout in the CRM aims to make contact information more accessible and easier to manage.
We felt that the address book for contacts was too hidden away so this is a key area we've made clearer.
There was confusion over terminology in the CRM so we've simplified the interface.




Centralised discounts
In previous versions of Evance discount coupons and discount schemas were managed in separate locations. We wanted to add a new type of discount so we've restructured the discount architecture into one centralised system. If you're an Evance subscriber and already have discounts set-up they'll be maintained with this update.




Public discounts and sale events
For a long time Evance has supported discount coupons and customer discounts, which allowed you to promote discount codes in your marketing material and reward customers with loyalty discount structures. But what about sale events? And bulk order discounts for new customers? Well that's all taken care of with Public Discounts.



Volume discounts on products
You'll notice a bit of a theme here. We seem to have gone a bit discount crazy. So in Evance Fandango we're now including our volume pricing system as part of our standard e-commerce software, rather than as an add-on. This allows you to maintain quantity based price breaks per product within Evance's product manager.

EU VAT numbers
Selling to businesses within the EU? Evance Fandango comes equipped with the knowledge that any business within the EU and outside of the UK is eligible for zero-rated tax. Evance offers visitors with the opportunity to enter and validate their VAT number against the VIES database.
HMRC on dispatches within the EU .



301 redirects
For those with a bit of of SEO know-how you'll be pleased to know that since including SEO URLs for both products and categories we realised that old listings needed to be redirected to their new URLs. Evance knows which products and categories have SEO URLs and those that don't and redirects search traffic appropriately.


Canonical tags on https
We've received a lot of requests from your SEO gurus to add canonical tags into Evance for pages served over HTTPS.
If this means nothing to you then it basically means telling search engines how you prefer to be indexed in search results.


Improved MS Word copy/pasting
We've always avoided copy pasting from Microsoft Word and other rich text editors into the CMS, as they add unwanted code into your pages. But we all forget and end up with bloated sites. So we've updated the Evance CMS to handle copy/pasting content from your MS Word documents. Evance strips out most unwanted code.


PCI & security updates
Security is of paramount importance to us. With each release of Evance we perform vulnerability scans including over 7,000 checks, but in this release we've also re-written the payments system and included the SagePay Server integration as default to further secure our merchants from the scope of PCI compliance.


Plus, a whole lot more
Evance Fandango (v3.3) has received over 50 updates, improvements and bug fixes to improve the experience of both merchants and customers.
We know that many of you have been looking forward to features in Fandango and can't wait to get your sale events, public discounts and volume discounts in place to attract more business.